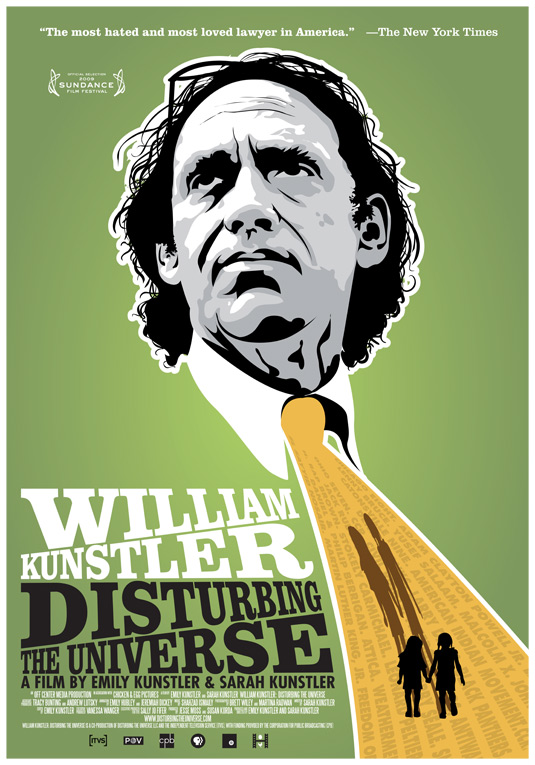 About 2 weeks ago (yes, I'm a bit behind on my reviews) I attended Rooftop Films screening of
William Kunstler: Disturbing the Universe
, a documentary that played at Sundance this past January but which I did not get a chance to see while I was there. The film is an intimate look into the life of legendary lawyer and civil rights activist William Kunstler, who took on many controversial cases and threw himself into many intense situations. You might know his name from the Chicago Seven case, or perhaps as a negotiator from the prison takeover at Attica, or maybe the Central Park Jogger case, or still yet the standoff at Wounded Knee between Native Americans and the government. As the filmmakers say in the film, it seemed like he was involved in every important legal event in the second half the 20th century.
The filmmakers are Kunstler's daughers, so they have as much access as you could possibly want and they remain open throughout the film about their biases. In fact, the film is in many ways more about the evolution of their opinions about and relationships with their father (deceased in 1995) than it is about just him. You follow their journey as they try to understand why it is that he took the cases that he did and come to accept his decisions that they may not have agreed with at the time.
Not only is it an intriguing portrait of William Kunstler, but it is also a really great window into some of the most controversial moments of civil rights history in the 20th century. You really get a sense of the feelings of those involved in these landmark events. You feel their fear, their disappointment, their excitement. Although, I will warn you that this film will make you distrust and dislike the government. It does not shine a positive light on those in power in these turbulent times. But some of the best films are the ones that aren't afraid to speak the truth of ugly situations, even when you might prefer to be left in the dark. One of the most important uses of film is to expose problems in the world to a larger audience so that people can begin to affect change. And this documentary will definitely inspire you to try to go out and affect change, even if you can't do it on as grand a scale as William Kunstler.
On a related note, since I'm on the subject of films from Sundance's 2009 film festival (see
1
,
2
,
3
,
4
entries from January), I should add that one of the films I saw there, Push, is being released in November. I saw a poster for it in a movie theater this past weekend. The title has been changed to
Precious
(probably a wise move on their part so that it wouldn't get confused with the action movie that came out this past winter). An incredibly dark but simultaneously uplifting movie, I'm interested to see if they keep it intact the way I saw it originally or if they change a lot and take some of the more gruesome or depressing parts out. I certainly hope they don't, and from the trailer it doesn't look like they did. This was one of the best films I saw at Sundance. Don't be turned off by all the pop stars you see in the credits. Mariah Carey (who is barely recognizable in the film) and Lenny Kravits did a good job in their relatively small roles.
Speaking of musicians on film - also a notable release that I saw while I was there, especially since this is a music blog, is the release of rock documentary
It Might Get Loud
, featuring Jack White, The Edge and Jimmy Paige.
Other Sundance films coming out that I didn't have the privilege of seeing while I was there:
In The Loop
,
Humpday
,
Five Minutes of Heaven
,
Spread
,
Moon
,
500 Days of Summer
,
Shrink
,
Cold Souls
,
The Cove
, and
End of the Line
.