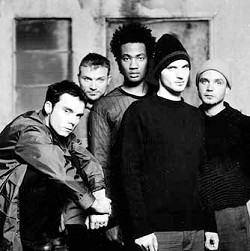 I'm feeling a little nostalgic today, so I am going to post about one of my old favorite bands, Remy Zero. Sadly, Remy Zero broke up in 2003, just as they were finally starting to receive some notice (for the most part they were at this weird in-between phase where they were not indie so they weren't in with that crowd but they weren't mainstream either so no one seemed to know about them). Strange how it happens like that. I just got an email from them one day saying, "Remy Zero has been put to rest." It was a sad day. The letter is still on their old
website
if you'd like to read it, even though they broke up like 4 or 5 years ago. Apparently they were toying with the idea of reuniting in 2006 but didn't. Sadness.
I first discovered Remy Zero about 6 years ago when their song "Perfect Memory" from their last album,
The Golden Hum
, was on a tv show I was watching. The song made me cry really hard, which is a rare achievement for a song, so I decided I had to find out who these guys were. The more stuff of theirs I listened to, the more I loved them. Every song of theirs was just beautiful. "Perfect Memory" isn't the only song that has made me cry by them. My favorite song of theirs became "Prophecy," from their album
Villa Elaine
. But really, I liked almost every song I heard. Their music has a very cinematic feel so I used a lot of it for soundtracks to my student films in high school. My freshman year of college I actually did a narrative photography project for my photography class based on their song "Hollow" (from
The Golden Hum
) and set it to the song.
I'm not the only one who realized the great cinematic potential to their songs, as their song "Fair" (from
Villa Elaine
) made it onto the infamous
Garden State Soundtrack
. Unfortunately, that was after they broke up... They would be huge today if they had still been together when that happened. Everyone else on that soundtrack is. In fact, Zach Braff must really like them because he also used the song "Prophecy" in
The Last Kiss.
Their song "Save Me" was also the theme to the terrible WB superman show Smallville.
So what are they up to now? Shelby and Cinjun Tate (brothers and the original leaders of the band I would dare to say), have formed
Excavation Records
, on which their new band
Spartan Fidelity
seems to be the only artist, and are making music much like Remy Zero's music. From what I can tell frome their website, their musical style is very similar but the songs up on their site are more boring. Maybe it's just because they were all so slow, so it's hard for me to get a good idea. But Remy Zero had much more variety in the pacing of their music. I did kind of like the song "Another Sad Face" though from their website.
Gregory Slay, former Remy Zero drummer, is now working on
Sleepwell Music
. I don't actually know what his role in it is and I can't really figure it out from the site. Their website kinda freaks me out to be honest. It's annoyingly difficult to navigate and it takes to long to load. The music was ok, but the quality of the recordings wasn't so great.
Cedric Lemoyne, former bass player and possibly my favorite member, doesn't appear to be doing anything post-RZ. That's too bad. Or well, it looks like he, Jeffrey Cain, and Gregory Slay may have joined the blues band
U-Ka
...? At least for the album Bermagui? Gregory Slay seems to be a permanent member of U-Ka, but it looks like Cedric and Jeffrey mainly just joined them for the album. Jeffrey Cain has been a busy one. He has a solo album that was released in May, as well as his project
Isidore
- a collaboration between him and the guitar player of The Church - which reminds me a lot of a local Minneapolis band I used to really like, the Honeydogs.
As sad as I am that they are no longer together, on the positive side, I did get to meet them once. When I was a sophomore in high school they did a free live performance and autograph signing at The Electric Fetus record store in Minneapolis (where I grew up). They were so nice. They let me have a poster for free and they all signed it for me. My friend Sarah had them sign her ass. Not my proudest moment... But it was a really fun experience. We were like 5 feet away from them during the performance and even in that small, crowded record store they put on a really good show. I miss them. I want them to get back together. Maybe someday. Tata dahlings.